Our Color Range
Environmentally Friendly Bamboo Flooring Products
Simply Timber Floors
At Simply Bamboo we have been a specialist in bamboo flooring and installations with great success for over a decade now. However it wasn't until recently we thought to ourselves if our bamboo flooring is a winner why not add timber flooring to our repertoire.
Lifetime warranty info
You will have peace of mind with Our local lifetime warranty, meaning our products are guaranteed though our company locally. Unlike many of our competitors who only offer overseas manufacturers warranties, rest assured we stand by our bamboo floors and are obliging to assist you if your flooring has any issues after installation, providing you are the original purchaser and owner of the property where it has been installed.
Our Bamboo Product Range
We have a wide selection of bamboo boards to suit any of your building needs such as direct stick or floating floors including a vertical board, ideal for making furniture pieces.
4000mm Solid Bamboo Bench Tops
LATEST BLOG POST
​At Simply Bamboo we use high quality bamboo products for all our installations. The two types of bamboo flooring we use are engineered and solid compressed bamboo flooring which both come with a warranty on the installation and the product.
Elegant stair case with Bamboo flooring
Create a stunning staircase in your home or office using bamboo flooring. Bamboo flooring has become quite popular due to its modern look and strength. Bamboo flooring will enhance the look of any staircase such as the elegant caramel toned bamboo used here. Bamboo flooring is an eco-friendly, durable and easy to clean material. Simply Bamboo will ensure high quality finishing on all their installations.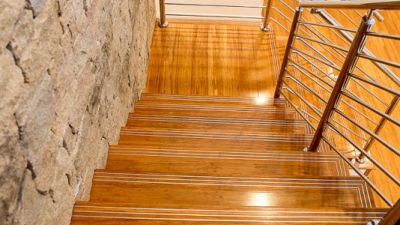 Our Happy Customers
I have used Simply Bamboo"s benchtops in my new kitchen and am very happy with the result ! I also got matching pantry cupboards made from the furniture board which Marcus and his team cut to size and delivered. Although it could be expected from a natural product, when some of the colours didn't match , Marcus provided replacements at no extra cost. The final result is amazing and I am very happy with the result and appreciate the caring , personal approach. I fully recommend Simply Bamboo products and services.
ECO FRIENDLY
FLOORING CHOICE